25 Free Premium WordPress Themes For Portfolio Websites
WordPress is one of the most popular CMS platform around the world, being used by millions of users. WordPress's CMS capabilities make it an ideal platform for designers who want to display their portfolio, photo gallery themes with dynamic content and add blog as well. There are an increasing number of themes that have been developed specifically for this purpose, some free and some premium.
Today I'd like to share with you hand-picked 25 Free premium high quality portfolio wordpress themes released in 2011 all are wordpress 3.0 Compatible.
Don't forget to subscribe to our RSS-feed and follow us on Twitter and Facebook for recent updates.
Free WordPress Themes For Portfolio Websites
Boldy / Free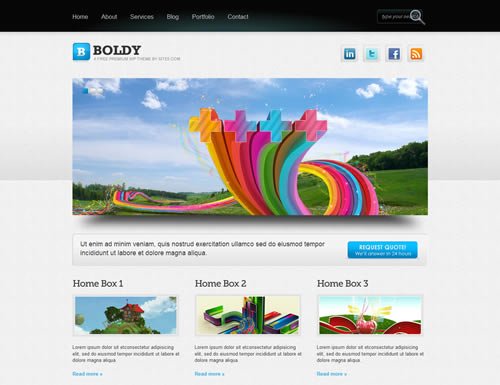 Boldy is awesome premium like free portfolio WordPress Theme with cool sliding features and multi colors variations you can check the full list of features below.
Features
Nivo Slider
WordPress 3.0 Menu Management Support
Easy to setup, Theme Options Page
Latest Tweets Built-in Widget
Built-in Pagination
JQuery PrettyPhoto Lightbox
Ajax based contact form
Dropdown Menu

Wise Business / Free

Corporate Style Wise Business premium like free business and portfolio WordPress Theme with cool sliding features and multi colors variations you can check the full list of features below.

Features

WordPress 3.0 Menu Management Support
Easy to setup, Theme Options Page
3 color schemes
Cufon Font Replacement Support
Widget ready
Latest Tweets support
Custom Home, Portfolio,Testimonials page templates
JQuery Lightbox, Superfish Dropdown Menus
Ajax based contact form with email validation

Webfolio / Free

Webfolio WordPress Theme free portfolio wordpress theme with cool sliding features and multi colors variations you can check the full list of features below.

Features

3 color schemes
Cufon Font Replacement Support
Widget ready, Theme Options Page
Ads support with enable/disable option
Flickr Photostream with enable/disable option
JQuery Lightbox, Superfish Dropdown Menus, Slider
Ajax based contact form
Live form email validation

Work-a-Holic / Free

An awesome free minimalistic portfolio theme with two and three column layout, that focuses mainly on showcasing portfolios for designers, photographers and illustrators.

Portfolio Press / Free

HTML5 based awesome free portfolio wordpress theme Portfolio Press. It uses custom post types for portfolio pages, takes advantage of the new menu navigation, and includes a ton of neat features.

Brave Zeenat / Free

A clean Portfolio Theme, ideal for photographers, artists and designers to showcase their portfolios. Some features include:

Features

Widget Ready
Twitter Ready
Jquery Slider
Homepage configurable to show 5 categories with three latest posts from each category
3 Category Templates: Full Posts, Excerpts, Thumbnails Only

F8 Lite / Free

f8 lite is a free theme for WordPress that can transform your Web site or blog into a fully functioning photography or multimedia portfolio Web site. SEO optimized, iPhone compatible, grid-based css, built-in Galleria support, slideshow-enabled, built-in multimedia support, auto or manual thumbnail control, Gravatars, plus much, much more.

Structure / Free

The Structure Theme is a set of premium WordPress themes with a modern minimalist design offered by Organic Themes. You can buy the premium version or download the free unsupported one.

Satoshi / Free

Satoshi is a clean and minimal portfolio WordPress theme that's ideal for showcasing project work.

It comes with a range of professional page templates including a custom front page, a stylish blog design, a portfolio page, and a fully functional contact form.

It's also packed with other great features such as drop-down menus, Google Analytics integration, and the ability to easily upload your own logo. And best of all – it's FREE.

Vostok / Free

Vostok is for those who don't want attention to be distracted from content. Colors and typography have been carefully chosen to achieve maximum legibility with minimum eye fatigue. Also, code has been written with extreme care for web standards and accessibility.

Simplefolio / Free

SimpleFolio is a portfolio theme that includes a blog and a very extensive option page that allows you to exclude all your portfolio items from the blog page. It also includes a front page slider.

Fotofolio / Free

Fotofolio is a free wordpress template designed for easy creation online portfolio for Visual Workers; Photography, Graphic Design, Manga, Architect, etc. Fotofolio is very simple and easy to use.

Premium WordPress Themes For Portfolio Websites

Photoland / $69

Photoland is a unique Premium WordPress Theme developed especially for photoblogs, showcases, portfolios, etc. The minimalist style will complement your photos and bring them under the best spotlight possible.

Features

Theme Options Panel
Threaded Comments Support
Custom Widgets & Features
SEO Options Section
Custom Page Templates
Developed for WP 3.0, 3.1+
Custom Logo Input
Automatic Image Resizing
Internationalized & Localized
Custom Background Support
Custom Font Replacement
Gallery Slider
Blog Template
Threaded Comments
Custom Widgets

Graphix / $69

Graphix is a beautiful portfolio/personal WordPress theme with lots of eye-candy and 5 modern and fresh color styles to choose from.

Features

WPZOOM Options Panel
Custom Menus Management
Threaded Comments Support
Custom Widgets & Features
SEO Options Section
Custom Page Templates
Developed for WP 3.0, 3.1+
Custom Logo Input
Automatic Image Resizing
Internationalized & Localized
Banner Management Section
Custom Background Support
Custom Post Options
Multiple Color Schemes
Featured Content Block
Social Profile Links
Custom Widgets

Freshfolio / $49

An original, awesome and efficient way for showcasing photography, design, illustration portfolios' or even paintings and art.

Features

Feedburner Ready
Auto Image Resizing
Cross Browser Compatible
Jquery Image / Video Lightbox
Font-face custom font
Image Thumbnail Custom Field
Powerful Admin Options

Envision / $49

An awesome premium portfolio wordpress theme. It has shortcodes, 5 different sliders and a bunch of awesome features.

Features

Feedburner Ready
Auto Image Resizing
Cross Browser Compatible
Jquery Image / Video Lightbox
Font-face custom font
Image Thumbnail Custom Field
Powerful Admin Options

Photocraft / $65

Create your online portfolio by showcasing your images and services in WordPress. This theme is perfect for Photographers to showcase their skills and their photographs.

Standard Features

Dynamic Site color, font, font-family, font-size & background
One Click – Auto Install
Excellent Support
Customizable Header region
Theme Guide & Tutorials
PSD File Included
Drop Down & Breadcrumb Navigation
Gravatar Support & Threaded Comments
Built-in Ad Monetization
Search Engine Optimized
Widget Ready with custom widgets
Valid, Cross browser Compatible

Chameleon $39 membership

Chameleons are known for their ability to change the color of their skin. The patterns and color combinations you find in chameleons are almost endless, and our new theme is no different! Chameleon was created to be a simple and professional theme with loads of customization options that do not require web development experience to utilize.

Features:

Opera compatible
Netscape compatible
Safari compatible
WordPress 3.0 compatible
Unlimited Color Schemes
Gallery Section
Threaded Comments
Optional Blog-style Structure
Gravatar ready
Firefox compatible
IE8 + IE7 + IE6 compatible
Advertisement Ready
Widget ready sidebars
Theme Options Page
Custom thumbnail images
PSD files
Valid XHTML + CSS
Smooth tabless design

Webly $39 membership

Webly is a professional theme with just enough charm and whimsy to give your website that fun and unique edge. With powerful tools, such as the multimedia slider and content bar on the homepage, Webly provides you with creative ways to engage your visitors. If you are looking for creative theme that will make your business stand out from the crowd, then look no further!

Features

Opera compatible
Netscape compatible
Safari compatible
WordPress 3.0 compatible
Unlimited Color Schemes
Gallery Section
Threaded Comments
Optional Blog-style Structure
Gravatar ready
Firefox compatible
IE8 + IE7 + IE6 compatible
Advertisement Ready
Widget ready sidebars
Theme Options Page
Custom thumbnail images
PSD files
Valid XHTML + CSS
Smooth tabless design

Memoir / $39 membership

It has been almost a year since we last released a standard blog theme, and considering that personal blogging still represents the core WordPress user base, I thought it was time that we returned to our roots and produced a simple blog design. Memoir is beautifully simple, but still comes packed with character and style.

Features

Opera compatible
Netscape compatible
Safari compatible
WordPress 3.0 compatible
Unlimited Color Schemes
Gallery Section
Threaded Comments
Optional Blog-style Structure
Gravatar ready
Firefox compatible
IE8 + IE7 + IE6 compatible
Advertisement Ready
Widget ready sidebars
Theme Options Page
Custom thumbnail images
PSD files
Valid XHTML + CSS
Smooth tabless design

Glider / $39 membership

If you are looking to re-invent your personal website, then Glider just might be the theme for you. Featuring a contemporary style and a unique javascript layout, this theme is sure to leave your visitors impressed. Along with looking cool, Glider is also versatile, and includes a fully featured blog and portfolio section in addition to the basic page-based homepage.

Features

Opera compatible
Netscape compatible
Safari compatible
WordPress 3.0 compatible
Unlimited Color Schemes
Gallery Section
Threaded Comments
Optional Blog-style Structure
Gravatar ready
Firefox compatible
IE8 + IE7 + IE6 compatible
Advertisement Ready
Widget ready sidebars
Theme Options Page
Custom thumbnail images
PSD files
Valid XHTML + CSS
Smooth tabless design

The Cotton / $35

The Cotton is a Powerful Premium WordPress Theme designed in a minimalistic style. This theme provides all the main functionality you will need to present your products, work and yourself in an elegant and professional style. The Cotton theme is highly flexible, so customizing the theme or simply changing the color scheme is super simple and for the most parts you won't need an image editor. The theme is best suited for any business, portfolio, photography and personal sites.

Features

Unlimited skins
40 pattern backgrounds included
Powerful Admin
3 Featured Unlimited jQuery image sliders
Portfolio Showcase Template
Portfolio Gallery template
Separate portfolio custom types
WordPress 3.0 Custom Menu Support
jQuery Tabs
AJAX contact form
Widgetized Footer – can be easily disabled
Comments with reply functionality (multiple levels depth)
Multi level drop-down menu
Lost of styled elements included
Pricing table design
Page Layouts
2 bonus widgets included – Portfolio Posts Loader and Latest Posts Loader
Detailed documentation included
PSD Files included
Works and looks similar in all major browsers: Internet Exlorer, Firefox, Opera, Safari, Google Chrome

Echo / $35

Echo is a clean and simple, but a very powerful and a highly customizable portfolio theme, aimed at anyone who needs a showcase. If you're looking for a gorgeous portfolio theme, then you've just found it.

Echo comes with an excellent customer support and a bulletproof documentation file that discusses every aspect of the theme in details, ensuring you don't face any difficulties in setting up the theme and maintaining it.

Features

Carefully handcrafted
Semantic, clean and valid HTML5
Coded with progessive enhancement and SEO in mind
Strong focus on user-experience, usability, and beautiful typography
WordPress 3.0 ready (featured images, custom post types, custom menus)
Extensive, unbranded theme options
Excellent customer support
Extensive documentation
Localisation support
4 custom widgets
7 Widget areas
8 Custom template pages
Column shortcodes
1, 2, 3, 4 column portfolios (supports video)
jQuery ajax contact form
Unlimited color schemes
jQuery prettyPhoto lightbox
Awesome jQuery slider
Custom fonts
Readable and well-documented code
Threaded comments
Drop-down menus
Custom default gravatar support
layered PSDs for customisation
Custom 404 page
960gs framework
Print-ready stylesheet
TimThumb php script for image resizing

Bonsai / $35

Bonsai is a clean minimalistic WordPress theme that doesn't suffer from the feature bloat of other themes. The design is simple yet attractive and flexible. Perfect for a businesses, individuals, portfolios or blogs.

Features

WP 3.1 compatible
Clean minimalalist design
Custom login screen
Contact form messages displayed in admin area
Valid & cross browser compatible HTML5
PrettyPhoto Lightbox
Working PHP contact form with spam protection.
Styling Shortcodes including columns, buttons and YouTube and Vimeo video thumbnail links
Visual Editor shortcode buttons
Self hosted video support (Video JS)
WP3 .0 custom nav menus
Custom widgets
Custom Post Types
Detailed Documentation
Translation ready (using .po and .mo files)
Unlimited sidebars
Built in theme and template options
Extensive colour options

Fringe Tech / $35

Fringe Tech is an awsome clean WordPress theme perfect for a businesses, individuals, portfolios or blogs.

Features

WordPress 3.0 Menu Manager
Custom Post and Page Options
Custom Widgets & Sidebars
Blog and Post and Item Detail Template
Full Width Page Template
Nested comments
Great Backend and 11 Admin Option Pages
Multi-level drop-down menu support
Important ! Image Uploader for Thumbnails and Full Size Pictures.
Ajax Working Contact Form + Validation
jQuery Portfolio with Video content
Valid XHTM Strict1.0 and CSS 2 .1, tableless design
Cross Browser Compatible
SEO Optimized
jQuery Image Slider (Can be controled via admin panel)
Gravatar Support
Using Custom Files for Thumbnails with WordPress Uploader!
Twitter Ready
So Many Widgets Area for all of pages
Cufon Text Replacement (also can be upload new style via admin panel)
jQuery News & Blog Ticker
Very many theme settings
Well commented code for all pages
Help documentation file included for easy modification

Don't forget to subscribe to our RSS-feed and follow us on Twitter and Facebook for recent updates.