15 Most Downloaded Free Minimal WordPress Themes
WordPress has thousands of themes for WordPress lovers to select from, which allows WordPress Blog to feel more customized, there are tons of free and paid are available at your disposal.
That's why we've done the work for you and created this collection of 15 beautifully designed Minimal WordPress Themes for free, that will inspire you to change the look of your WordPress blog. Have a favorite Minimal WordPress theme? Tell us about it in the comments.
Don't forget to subscribe to our RSS-feed and follow us on Twitter and Facebook for recent updates.
15 Best Minimalistic WordPress Themes
Vostok Theme – White
Vostok is for those who don't want attention to be distracted from content. Colors and typography have been carefully chosen to achieve maximum legibility with minimum eye fatigue. Also, code has been written with extreme care for web standards and accessibility.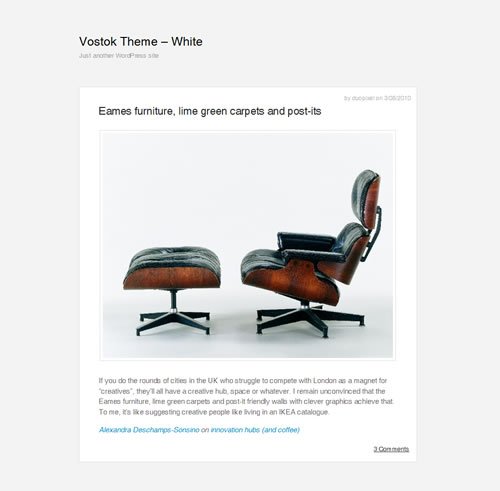 New York, New York Theme
New York, New York WordPress Theme is the 4th minimalist wordpress theme created by siiimple.com.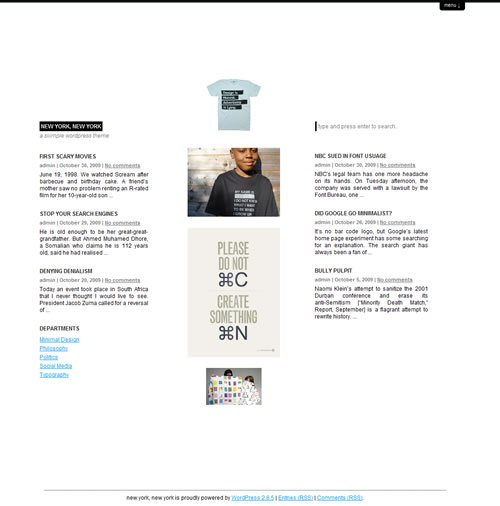 Voidy WordPress Theme
Voidy is the perfect theme for great authors. It is clean, clear and beautiful. It is minimalistic two-columns theme with the widgets all arranged in the right sidebar. Voidy was designed to make your content stand out and make everything else get out of the way. Check it out and you will fall in love with it.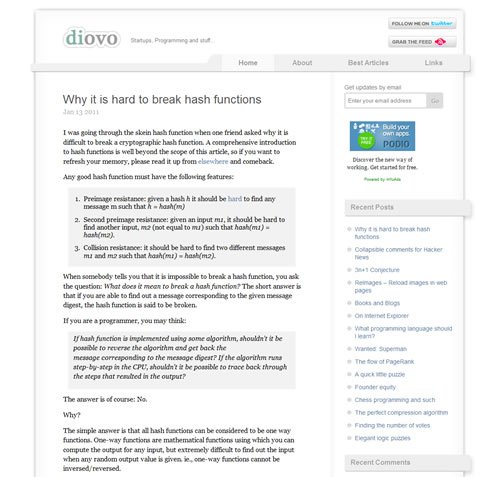 Imbalance
Awesome wordpress theme called Imbalance. Free wordpress theme in modern-minimalist style. Imbalance is a very user friendly, jQuery powered theme which looks really well under any browser and OS. Perfectly fits for your blog, online magazine or portfolio websites.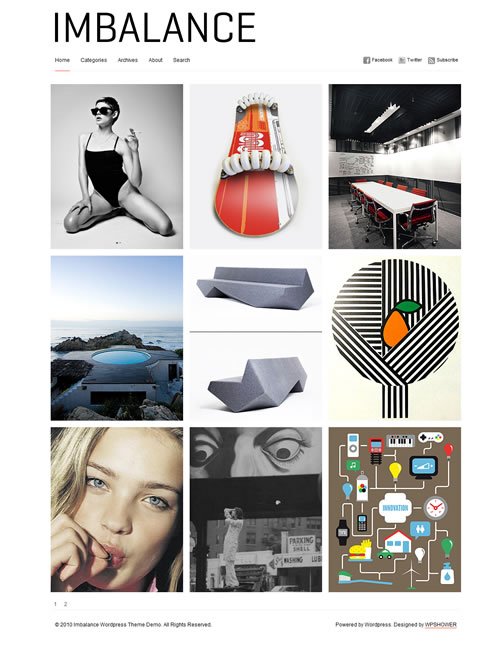 Swiss Dessign Theme
Beautiful modern and minimalistic wordpress themes, design for illustrators and graphic designers to show their amazing work. Creative People Rock!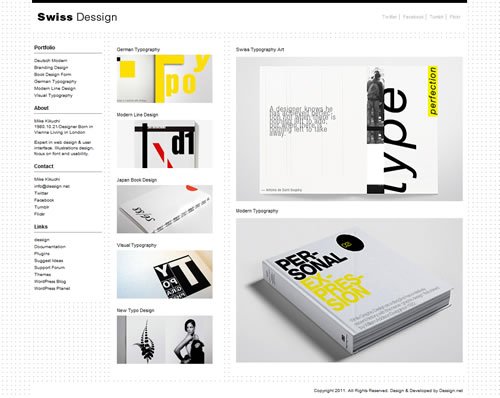 Minimal Dessign Theme
Beautiful modern and minimalistic wordpress themes, valid xhtml + css, 3.0+ compatible, seo friendly, cross browser support.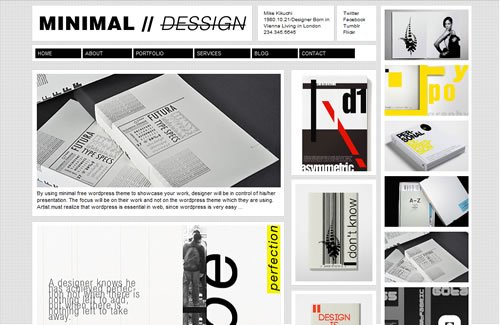 JournalCrunch Theme
JournalCrunch WordPress 3.0+ theme, a theme for magazines or portfolios with an integrated journal. The theme was designed by Site5 and released exclusively for Smashing Magazine and its readers. As usual, the theme is absolutely free to use in private and commerical projects.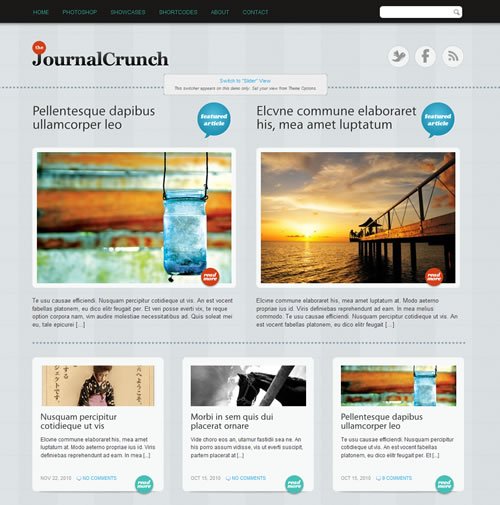 Blogum
BLOGUM is a simple, grid based blog WordPress theme, designed in a modern & minimalist style. The theme has a heavy focus on your content and very clean feel. Theme supports all WordPress 3.0 features and gives you extra flexibility. Clean, minimalist, grid based layout, built in support for social bookmaking on blog posts, jQuery image preloader, compatibility (Internet Explorer 7+, Firefox, Opera, Safari, Chrome).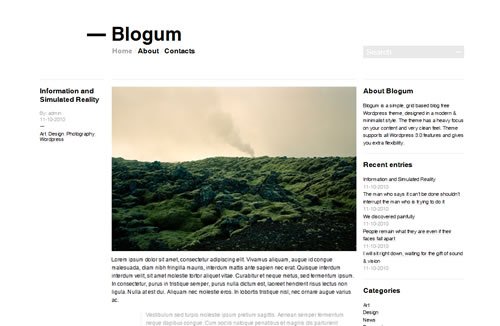 Skeptical
Skeptical's layout is very flexible in the sense that you can display "related posts" next to your latest posts on the home page, OR have a completely widgetized sidebar. Not only that, you can also add your Flickr stream to the footer region and showcase three noteworthy blog posts tagged with a specific tag that you declare in the theme options.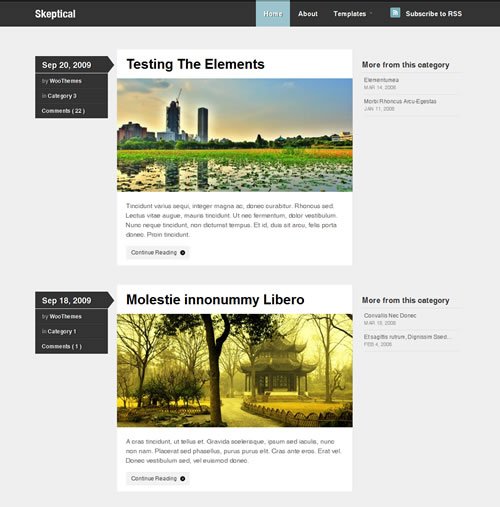 Satoshi
Satoshi is a clean and minimal portfolio WordPress theme that's ideal for showcasing project work. It comes with a range of professional page templates including a custom front page, a stylish blog design, a portfolio page, and a fully functional contact form. It's also packed with other great features such as drop-down menus, Google Analytics integration, and the ability to easily upload your own logo. And best of all – it's FREE.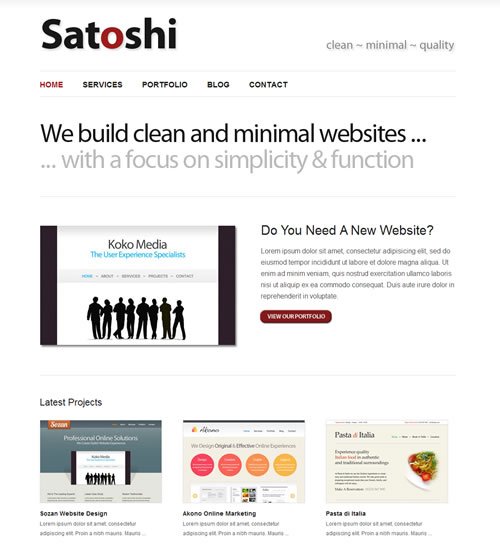 Blissful Blog
The Blissful Blog is a beautifully clean design and typographic WordPress 3.0 theme for the wedding industry. It features a traditional blog layout with several added features that take advantage of the latest WordPress 3.0 platform. That means you can change the logo, background and add featured images with ease.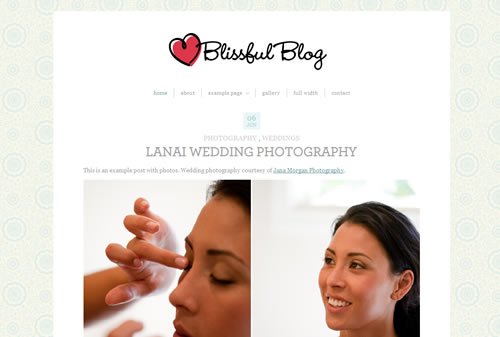 Structure
The Structure Theme is a set of premium WordPress themes with a modern, minimalist design offered by Organic Themes. The theme is designed to adopt the style of the content added. It features 2 color options — a white version and a black version.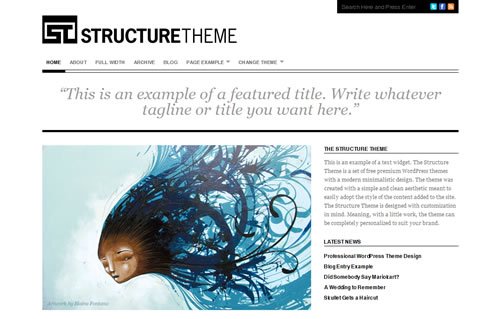 SmashingWall Gallery Theme
SmashingWall, a beautiful, high-quality WordPress theme for iPhone / iPod wallpaper sites, The theme has a unique and two colors design that will perfectly fit for your wallpaper blog/gallery.
Typominima
Typominima, a free typography based, gorgeous, minimal WordPress theme fit for the writer inside you. If you're looking for a free theme to help you put the content in spotlight, without worrying about it being suffocated by advertising space and unnecessary design blign, than Typominima is the perfect free WordPress theme for you.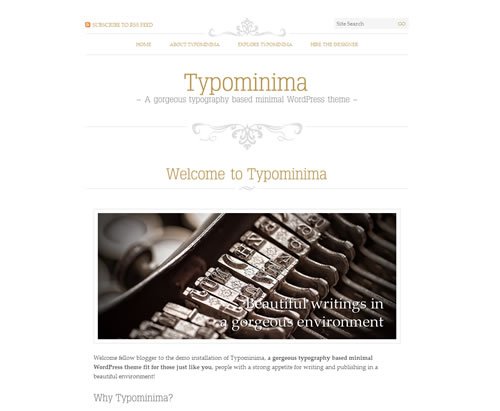 Manifest
A clean and streamlined theme that focused on the content and not the distractions. It utilizes a single column, 500 pixel wide layout. No sidebars. No widgets.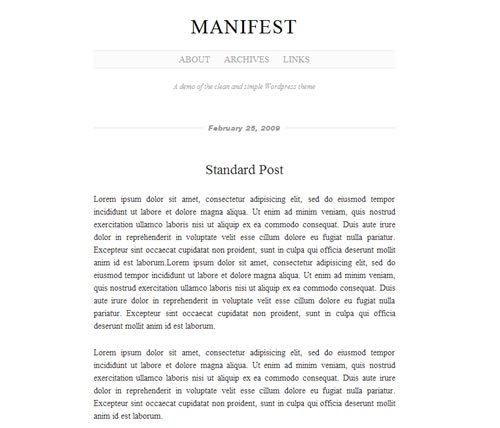 Don't forget to subscribe to our RSS-feed and follow us on Twitter and Facebook for recent updates.